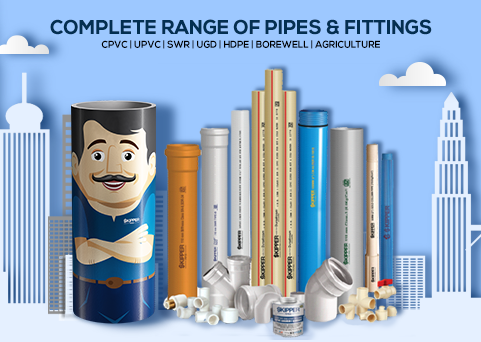 About Us
Established in 1981, Skipper Ltd. has today evolved into a national powerhouse in the Polymer Pipes & Fittings business. Under the brand name of 'Skipper', the Company manufactures premium quality polymer pipes and fittings which serve both the agricultural as well as plumbing sectors. The Company's pipes are built using cutting-edge technology and are created after years of research and development.
Our PVC pipes are made using the most modern and state-of-the-art extrusion machines and processes that ensure durable pipes that are consistent in quality. The ingredients and additives used are acquired using stringent quality control. The pipes are extruded and tested to meet industry-standards for endurance.
Despite being a late entrant, Skipper Pipes is the fastest growing Polymer Pipes & Fittings Company in India. Our strong product portfolio of pipes, including CPVC pipes and SWR pipes makes us a major player across rural agricultural and urban plumbing segments.




 Our Vision: 
To produce world – class quality products ensuring robust National Infrastructure development and making India the preferred sourcing hub for Global Infrastructure needs.
  Our Mission: 
To continue to add value-added products and services to its portfolio
To continue to focus on sectors of power and water as per contemporary global demands
To continue to tap newer geographies to add to the existing market
To ensure the greater scale and technology, the greater longevity of product, and introduce more efficient technologies for a longer duration of existence
To reduce carbon footprints, and evolve towards reduced consumption of hydrocarbons and nonconventional and renewable energy sources